Brittain Resorts & Hotels is proud to be the Official Hotel Partner of Chanticleer Baseball.
To get a quote and reserve your team's rooms, please call (843) 213-2699.
Stay where the team stays.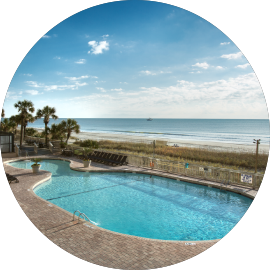 Caribbean Resort & Villas
It's all about location, and Caribbean Resort has one of the best locations in Myrtle Beach. Close enough to walk to the fun and excitement of the strip, but far enough north to spread out and relax on the beach. This oceanfront paradise offers recently renovated rooms, private balconies and top-notch amenities. Get ready for the vacation you've been dreaming about.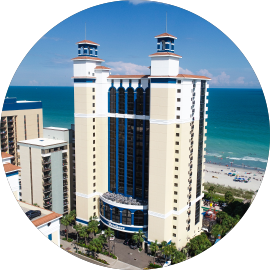 Breakers Resort
Come explore a world of fun at Breakers Resort—one of the best-known oceanfront family resorts in Myrtle Beach since 1929. We've grown up over the years, so check out all we have to offer, from our wet-and-wild water features to our on-site dining options and our spacious condos and suites.
Compass Cove Resort
The numbers are dizzying: We're talking 720 feet of oceanfront, more than 530 units, 22 pool features, 6 indoor and outdoor pools, 3 lazy rivers, unlimited free DVD rentals … Compass Cove, one of the biggest resorts in Myrtle Beach, has the premium amenities that make a vacation truly memorable, but with rates that fit your budget.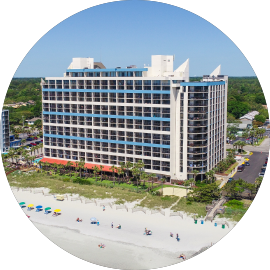 Ocean Reef Resort
Come see why families return to Ocean Reef Resort year after year. Kids love the water park with its sinking ship and tiki men, the indoor and outdoor pools and water features, the game room and summertime beach volleyball and kids club. Mom and dad love having two delicious restaurants right onsite, plus the laundry facilities, gift shop, newly renovated pool deck and Banana Boat Lounge—and of course the amazing ocean views. Ocean Reef Resort has everything your family needs to make your Myrtle Beach vacation one to remember.
Dayton House Resort
For over 55 years, the Dayton House Resort has been creating memories to last a lifetime. With over two acres of oceanfront lawn and water amenities, guests continue to return the Dayton House as their premier hotel destination while in Myrtle Beach. Centrally located in the heart of downtown, you are a short walk to the Myrtle Beach Convention Center, Myrtle Beach Sports Center, and one mile to Broadway at the Beach.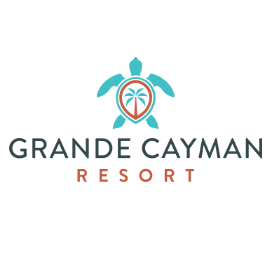 Grande Cayman Resort
Ready for the best of Myrtle Beach? Check out the oceanfront Grande Cayman Resort , which lies along a picturesque stretch of shoreline at the north End of Myrtle Beach. Families return year after year to enjoy the fun indoor pool deck and kiddie splash area, 250-foot lazy river, outdoor pool, hot tubs, arcade & outdoor games, onsite dining and our very own onsite Starbucks.
North Beach Plantation
The towers of North Beach Plantation sit on a 7.5 acre island in North Myrtle Beach between White Point Swash and the gorgeous beaches of the Atlantic Ocean. Our Four-Diamond-rated resort is unlike anything else on the Grand Strand, from our swim-up pool bar to 21 Main, where we take a fine-dining approach to steaks and sushi. Come see what we mean when we say luxury.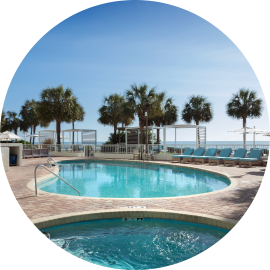 The Strand
A modern twist on a boutique resort, The Strand is the perfect oasis located in the heart of Myrtle Beach. Wake up each morning to a delicious free hot breakfast at The Market Restaurant and enjoy a lovely cocktail or dine with delight at The Strand Bar. Newly renovated, this boutique resort has all the charm of any major resort along the Grand Strand.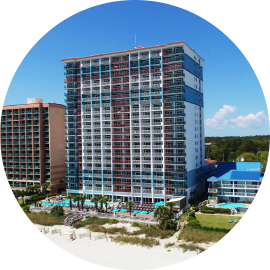 Paradise Resort
Paradise Resort, one of the newer oceanfront resorts in Myrtle Beach, combines the perfect location in the heart of town with fun and sun soaked amenities that will remind you, well, of paradise! Enjoy our outdoor and indoor pools, and when you need to recharge, grab a bite at Sandals, our delicious (and affordable) onsite restaurant, or even at our poolside tiki bar. Just remember to save time for the beach, because it's right in our backyard.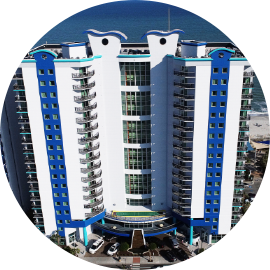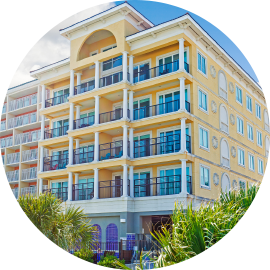 Bali Bay stands out as an oceanfront beacon of luxury and offers guests an idyllic and relaxing escape from life's stresses. This modern property provides guests with a myriad of options when it comes to accommodations, which can comfortably host all types of groups, from romantic couples' getaways to extended family gatherings. All of Bali Bay's vacation rentals provide guests with all of the comforts of home, as each condo includes a fully-equipped kitchen, living and sleeping areas, and laundry facilities.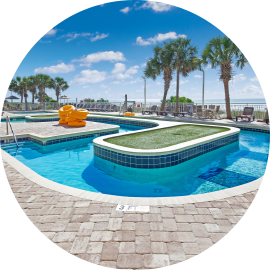 Located in the heart of Myrtle Beach, our resort is in the center of all the fun. Just minutes from an array of fine and casual dinning, outlet shopping and the hottest attractions. Your family will create memories that will last a lifetime.  When you are done exploring create memories at any of our private water features. The kids with laugh for hours splashing around in out oceanfront kiddie pool.  Mom and dad can relax and unwind with a lap around the lazy river. And of course take a dip to in either of the indoor or outdoor pools after an afternoon of laying out and catching some sun.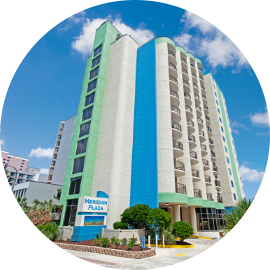 This oceanfront hotel offers a collection of newly renovated suites, each with its own unique experience from views to furnishings. Select suites also include spacious hot tubs and even fireplaces within the unit. Although each suite may be unique, they each come fully furnished with all the comforts of home to make your stay as convenient as possible.