Bartender
Dayton House Resort
WE ARE MORE THAN JUST A WORKPLACE…
We love what we do!  As leaders in the area's hospitality industry, our company is rooted in a strong, caring culture steeped in rich history and respect.
Joining our team means being a part of a flourishing, culturally diverse, and dynamic group of people focused on creating lasting memories. You will find your work rewarding as YOU make the difference to each of our guests. This is a place where friendships blossom and careers soar. As a company, we continue to grow and we hope you will grow with us.
Looking for a fun & outgoing, "people person" who enjoys interacting with others. This individual must be hard-working and motivated to provide quality service and products with a smile. As a Bartender, you serve craft cocktails and other highly curated alcoholic and non-alcoholic beverages. You would also serve a full bar menu and entertain customers as if they were in their own home.
Responsibilities of the Bartender include, but are not limited to:
Meets and exceeds all aspects of the overall guest experience and provides the highest level of service at all times

Takes orders from customers and serves highly crafted cocktails and other beverages as well as a full bar menu in a discreet, professional and unobtrusive manner

Checks with customers to ensure they are enjoying their meals/drinks and correct any problem to ensure guest happiness

Remove dishes and glasses from tables or counters and take them to the kitchen for cleaning

Must be knowledgeable to an encyclopedic level of the cocktail and mixed drink lexicon

Must be fully knowledgeable of the entire food menu including raw products and preparation techniques

Completes opening and closing side-work and deep-cleaning as assigned

Responsible for accurate and efficient setup and breakdown for bar operations

Warm and engaging personality with good communication and interpersonal skills, especially verbal, with guests, co-workers, management, and other parties

Good discretion and independent judgment in evaluating situations and determining courses of action

Good self-discipline with an ability to complete tasks independently

Ability to manage multiple tasks, issues, co-workers, and guests in stressful situations and take responsibility in a professional manner
Requirements
Must be at least 21 years of age
Must have at least 2-3 of experience as a bartender
What can you look forward to?
Qualifying team members may enjoy the following benefits:
Health Plan, Health Savings Account, and Life Insurance benefit

Dental Plan

Paid Time Off and Bereavement Leave

401(k) retirement plan with company match 

Vision

Long Term Care, Critical Illness, and Accident

Short-Term Disability

Personal Cancer Protection 

Jury Duty Pay

Tuition Reimbursement

Resort Accommodation Discounts
Due to the cyclical nature of the hospitality business, team members may be required to work varying schedules to reflect the business needs of the resort, including weekends and holidays.  
We are an Equal Opportunity Employer of all qualified individuals, including minorities, women, veterans & individuals with disabilities. We participate in E-Verify.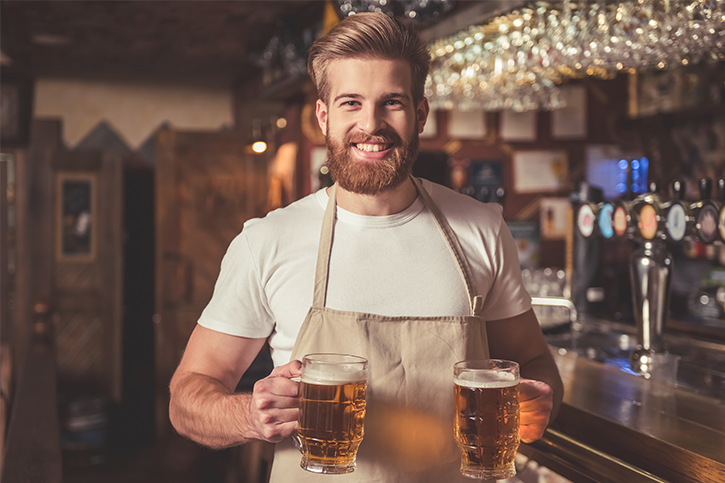 Follow us @brittainresorts