Lifeguard/Pool Attendant
North Beach Resort & Villas
The Ideal Candidate
Looking for a friendly, outgoing & motivated individual with a strong sense of duty and a job well done.
Job Description
The Lifeguard/Pool Attendant is responsible for maintaining the safety and appearance of the pool decks and the water attractions. You will be the first responder to all first-aid needs as they arise, and must be able to remain calm and communicate clearly with management, staff and guests. You will also be responsible for greeting and assisting all guests in a friendly manner and for the cleanliness of the pool, deck, and saunas.
Essential Functions
Issue first-aid as needed and remain calm and collected in the event of an emergency
Maintains safety compliance and guidelines with staff and guests
Monitoring of pool towel stock and communicating to the Pool Attendants to ensure these items are collected and received by the laundry department as needed
Proper etiquette and communication skills are a must
Greets all guests with a positive attitude
Enforces all poolside rules and prevents unsafe behavior
Cleans the pool deck and other designated areas
Assist CPOs with testing and treating pools
Vacuums pools as directed
Empty skimmer baskets to insure to flow of water through the filtration system
Cleans tile in pools to prevent calcium build up
Sprays the deck off daily with a pressure washer or hose
Removes used towels and places them in the dirty bins
Replenishes clean towels and removes the dirty bins
Empties trash bins on the pool decks
Communicates with housekeeping to keep a replenishment of clean pool towels
Provides excellent guest service on the pool decks by assisting guests with their needs and questions
Ensures that all guests have a property issued bracelet
Explains all safety guidelines to guests entering the water slide
Removes towels from lounge chairs after periods of being unattended
Cleans up at the end of the day by returning all chairs, tables, and lounge chairs to their proper places
Inspects entire pool area, replacing any missing items and/or repairing when possible
Job Requirements
Shallow Water Lifeguarding Certification.
Education and Formal Training
High school diploma or GED is preferred.
We are an Equal Opportunity Employer of all qualified individuals, including minorities, women, veterans & individuals with disabilities. We participate in E-Verify.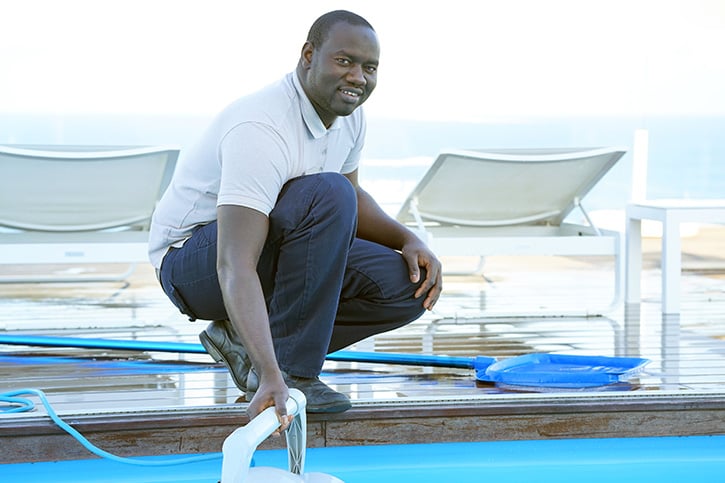 Follow us @brittainresorts