When you visit Myrtle Beach during the summer months, you not only get to see fireworks on Independence Day – you get to see them everyday of the week! The Grand Strand is the perfect place to watch fireworks all up and down the coast on the 4th, but there are a few places where you can catch them on a nightly basis. So during your stay with Brittain Resorts & Hotels this summer, be sure to check out some of our favorite locations to enjoy live entertainment along with huge firework displays.
Barefoot Landing will be hosting their annual SummerFest! Event – a celebration of the fun-filled days of summer – that runs June through September. This event features daily live entertainment at various locations around the shopping complex. Every Monday evening at 9:30 pm, they hold a firework show. Then, on July 4th, they will have a giant firework show over the lake beginning at 9:30 pm. Not only can you enjoy the summer long festival, but Barefoot Landing also boasts great shopping, dining, and entertainment that will be sure to amuse the whole family!
Why not catch a baseball game while you're in town? Myrtle Beach is home to the Class A-Advanced Affiliate of the Chicago Cubs, the Myrtle Beach Pelicans. Along with other various promotions, every Saturday during a home game, they present a post-game fireworks extravaganza. On Independence Day, the Pelicans will have a huge celebration. In honor of this holiday, they will be offering the "All-American Package" to those who attend. For just $17.76 you will receive a hot dog, cracker jacks, a 24 oz. Budweiser draft, a ticket to the Budweiser Thirst Inning Deck, and a mini American flag. Following their 7:05 pm game against the Buies Creek Astros, they will shoot off fireworks.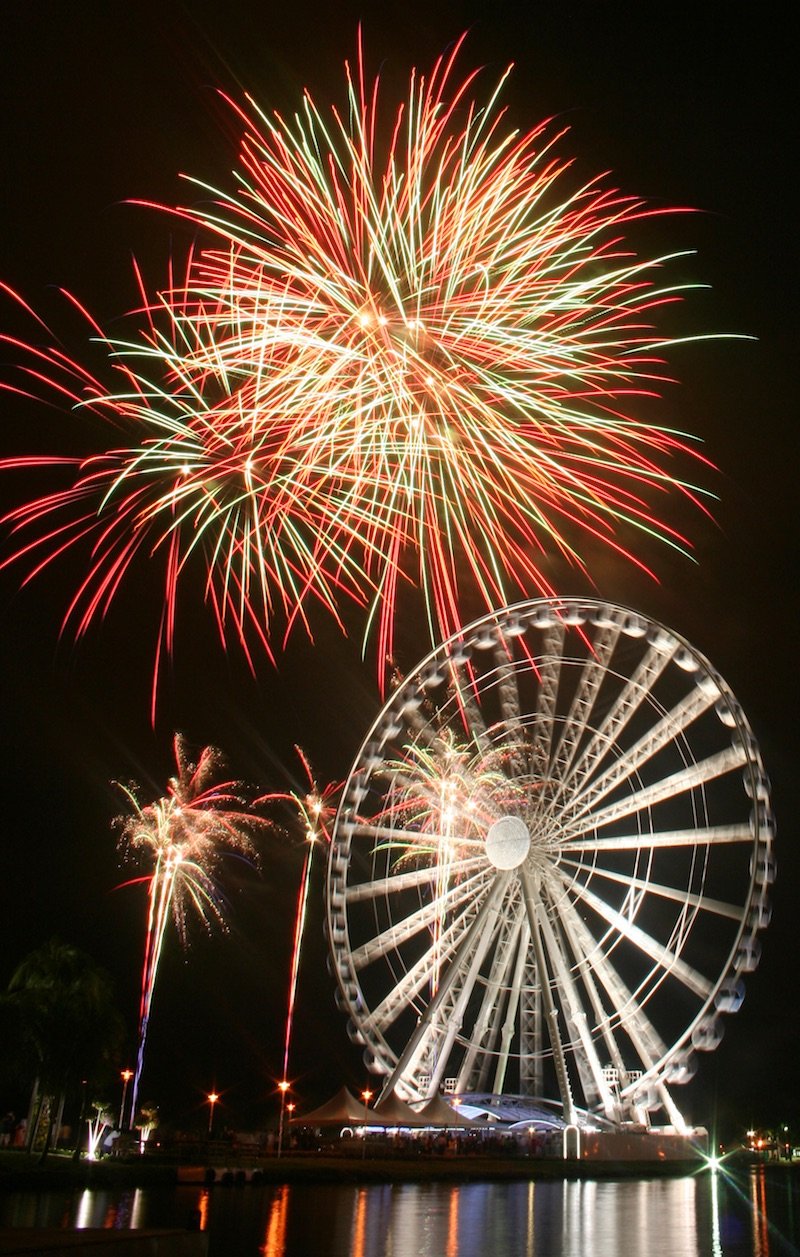 Broadway at the Beach hosts weekly firework shows every Tuesday and Thursday throughout the summer. Then at 10 pm, after a day of shopping and dining on July 4th, you can find the perfect spot anywhere in Broadway to watch the fireworks light up the night sky over the water. You don't want to miss out on one of the most popular and breathtaking firework displays at the beach!
Looking for live performances and fireworks? Look no further than Myrtle Beach Boardwalk – home to Ocean Boulevard's Hot Summer Nights. Every week, right by the Myrtle Beach SkyWheel, there is free live music, entertainment and family-friendly activities – all oceanfront! On Wednesdays there's not only live music, but also fireworks happening at 10 pm.
Right down the road from the Myrtle Beach SkyWheel is Second Ave Pier. This is not only the perfect spot to fish during the day, but a great place to catch fireworks every Wednesday at 10 pm during the summer. Grab your beach chair or towel, and find a spot on the sand to enjoy the beautiful colors light up the sky – right over the ocean!