Compare Our Many Resorts With Indoor Water Features Like Indoor Pools, Water Slides, Hot Tubs, Lazy Rivers & More!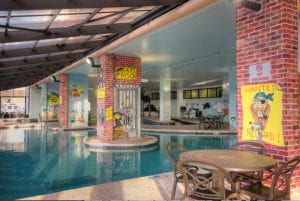 Caribbean Resort & Villas features a large indoor pool & lazy river. In fact, the entire pool deck complex features 14 pools and a huge oceanfront waterslide!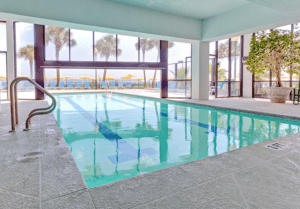 Dayton House Resorts features an indoor/outdoor pool allowing guests to easily take a break from the sun while never leaving the water.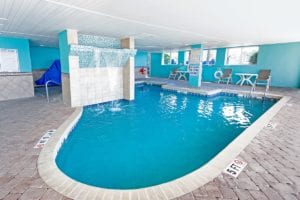 Take a dip indoors in the indoor pool at Atlantica Resort in Myrtle Beach. This little oasis ranges from 3ft-5ft deep and features a calming waterfall!
North Beach Plantation offers one of top pool complexes in Myrtle Beach. When it's time to take a break from the sun, you can still enjoy their indoor pool & lazy river!
Compass Cove Resort
Compass Cove Resort has two different indoor pools, one below the Schooner building and one below the Pinnacle building!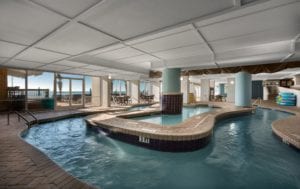 Paradise Resort
Paradise resort features indoor water features for the whole family! Enjoy our indoor pool, kiddie pool, hot tub & lazy river!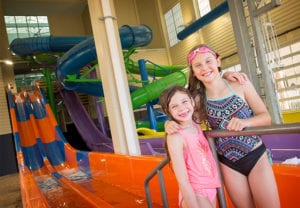 Breakers Resort is happy to announce the opening of "The Cove", our brand new indoor waterpark featuring 5 new slides. Breakers also offers a large indoor pool complex with pools, hot tubs and lazy river!
Bay View Resort features adult indoor pools, indoor kiddie pools, indoor hot tubs and a tranquil indoor lazy river. It's also conveniently located directly on the Myrtle Beach Boardwalk!
Ocean Reef's many water features include a large indoor pool, indoor kid's pool, hot tubs and a lazy river that is enclosed when the cool winds start to blow.