Have you ever left something behind on an airplane, in a restaurant or a hotel room? The moment you realize you've lost something precious, your heart sinks and you wonder, "will I ever get it back?" It's a bad feeling no matter what, but now imagine you're a young girl, and you've left behind your beloved stuffed animal at a huge resort miles away from home. Worse still, imagine you're the parent of that little girl, and perhaps you're the one that left her precious belonging behind. It's a bad feeling either way.
Earlier this month, little Ella and her family enjoyed a stay at North Beach Plantation. Upon returning home, Ella realized that she and her family had left behind her special stuffed friend, Tigey. Panic ensued and the tears poured! Surely, Tigey was gone forever. Heartbroken, Ella's mother reached out to North Beach Plantation to see if by some chance Tigey had turned up. As luck would have it, North Beach Plantation guest services representatives, Amanda and Shannon were able to locate Tigey!
Shannon came up with an idea to go the extra mile, and rather than just return Tigey, send him back with a note and pictures from his adventures while lost. Amanda jumped on board with this idea and the two of them got to work on creating Tigey's adventures at North Beach Plantation. Knowing how heartbroken Ella must have been thinking she had lost her Tigey forever, they took advantage of the opportunity to truly make a difference and bring joy to this child and her family.
Shannon and Amanda set out to capture images of Tigey enjoying North Beach Plantation on his own. They wanted Ella to know he was taken care of even while not in her care. They then enclosed them with a letter to Ella from Tigey regarding his stay. The letter read:
"My Dearest Ella,
I have missed you so much! I really enjoyed my time at North Beach Plantation, but it just wasn't the same without you there. I'm so sorry I stayed a little longer than I should have and I promise I won't be doing that again. I have enclosed some photos so you can see what I was doing while I was gone. I did have a good time and I hope we can all go back again real soon. I'm so glad to be back home with you and hope you weren't too upset with me for being gone for so long.
I love you!
Tigey"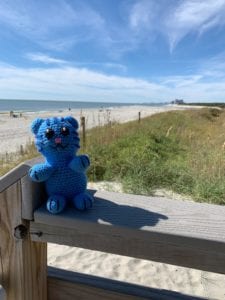 When asked about the experience and why she came up with the idea of the photos and letter, Shannon said, "I have a 2-year-old granddaughter, and all I could think about was how heartbroken she would if something like this happened to her. I know as a parent I would feel terrible leaving behind something that was so important to my child, so instead of just shipping back, I thought it would be more special for Ella to think Tigey stayed back and vacationed by himself for a few more days instead of thinking mom just left him." She went on to say, "I was super excited we were able to make this little girl happy. The moments where we can really impact a guest's experience and turn an unfortunate situation into a positive outcome is why I love my job."
Amanda stated, "Being a part of this experience made me feel amazing. When I was taking the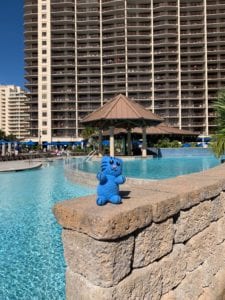 pictures, all I could think about was how much this little girl was going to love seeing what Tigey did without her. After taking the pictures, I was in a great mood for the rest of the day knowing that I made someone else's day, or was going to when he arrived at home. This is what going above and beyond is all about; taking time out of your busy day to make a small gesture to a child who will remember it for a long time to come. Hopefully this story will reach a lot of people and more people will be inspired to do small, amazing acts of kindness. It feels great knowing that our company could do something like this."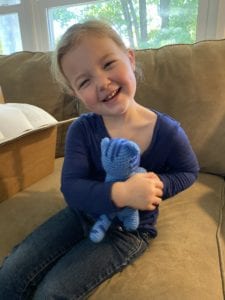 As for Ella, her mom said, "she was ecstatic to get her Tigey back, and it meant the world to her that he was not gone forever." She went on to say, "She (Ella) is still talking about Tigey going to the pool and the beach without her!"
Of course we are thrilled that this story ended happily ever after for Ella and Tigey. We are even more proud of our guest services team members, Amanda and Shannon for going the extra mile to create this memorable experience for Ella and her family!