When you think about a vacation, what adventures pop into your head? Wanting to catch a wave and ride it all the way to shore? Sitting front row at a show? What about crossing the finish line first? You can check all of these off your list when you vacation in Myrtle Beach. But if you're still not convinced about traveling to the beach, here are some of the other top reasons to visit Myrtle Beach:
1. Beach
The top reason to visit Myrtle Beach has to be…the beautiful beach! Whether you're soaking up the sun, searching for shells, or building sandcastles, there are 60-miles of soft sandy beach that make up the Grand Strand. Once you leave the shore, you can take advantage of all the water activities the sparkling Atlantic Ocean has to offer including splashing in the waves, surfing, sailing, parasailing, jet skiing, and fishing.  

2. Weather
No matter when you choose to travel to Myrtle Beach, you'll find the weather is mild year-round and flip flops transition through all seasons for both locals and tourists alike. While there is an offseason, moderate temperatures still allow for maximum outdoor enjoyment even in the colder months. There's never a bad time of year to visit the beach! 

3. Affordability
Most vacationers have their bank accounts top of mind when traveling, which is one of the reasons Myrtle Beach is a top destination—it's affordable. Families, couples, reunions, no matter what size the group, there's something to fit everyone's budget. When you plan your stay with Brittain Resorts & Hotels, we have oceanfront accommodations with affordable rates and frequently have sales events with special deals. There are plenty of budget-friendly activities, dining, and entertainment options to take advantage of as well.

4. Attractions
Every day is an adventure in Myrtle Beach with all the attractions for every age and every speed. You can dive under the sea at Ripley's Aquarium with the creatures that call the deep blue home, let your imagination run wild in the upside-down house of Wonderworks, put the pedal to the metal at Broadway Grand Prix, and splash the day away at Myrtle Waves. You can jump waves on a wakeboard at Shark Wake Park cable park, take to the sky on the Myrtle Beach SkyWheel, sip and sample local wine at Duplin Winery, and watch alligators feed at Alligator Adventure. Whether it's thrill or chill, family or couples, boring won't be in your vocabulary when you're describing your vacation.

5. Restaurants
Make sure you pack your appetite when you visit because they're a dish to satisfy every palate. You'll find all types of cuisine located at both local, hole in the wall spots, and chain restaurants. From freshly caught seafood at the oceanfront Sea Captain's House, toppings galore at the local Ultimate California Pizza, bigger than life burgers at River City Cafe, to the savory Lowcountry cuisine with a twist and handcrafted cocktails at Strong Waters Bar and rooftop dining at SoHo Sushi—Myrtle Beach is a foodie's paradise.

6. Entertainment
Myrtle Beach is home to some of the top show theatres in the south, the Carolina Opry and Alabama Theatre. While their spectacular Christmas shows are well-known and spread plenty of holiday cheer, their non-seasonal shows are just as popular and entertaining. Interested in dinner and a show? You'll be in awe as pirates battle on the high seas at Pirates Voyage and knights compete at Medieval Times. 

7. Shopping
If there's one place you can 'shop til you drop', it's the beach. There are a variety of outdoor shopping complexes that are perfect for finding souvenirs and grabbing a bite to eat. Broadway at the Beach is home to unique shops, dining, and attractions. Barefoot Landing has specialty shops and restaurants surrounded by water and connected by wooden bridges. The Market Common an upscale shopping center with stores, dining, and entertainment. If you're searching for deals, check out the Tanger Outlets.  

8. Golf
With 90 golf courses and over 1,700 holes, it's no surprise golfers from all over travel to tee up in Myrtle Beach. Fairways rolling along the Intracoastal waterway, tricky sandtraps, and fast greens—every course holds its fair share of challenges. No matter if you're an avid golfer or just picking up the sport, there's plenty of rounds to be played while you're visiting. And as the sun sets below the horizon, the game doesn't have to end. You can continue to practice your swing into the night at Top Golf Myrtle Beach. 

9. Nature
If you're hoping to disconnect and do some exploring in nature on your Myrtle Beach getaway, you'll find plenty of spots to sneak away. There's Myrtle Beach State Park where you can hike, birdwatch, and search for coastal wildlife. Discover the beauty of Huntington Beach State Park where you hike, bike, and tour Atalaya Castle, a national landmark. And you won't want to miss out on wandering through the beautiful sculpture gardens of Brookgreen Gardens, where art and nature collide.  

10. Festivals
Carolina Country Music Fest, Food Truck Festival, Shrimp Festival, Seafood Festival, Greek Festival, Blue Crab Festival, Jeep Festival, and the list goes on…
When it comes to celebrating food, fun, and live music, Myrtle Beach is a pro. Most of the local festivals are family-friendly and cater to the kids with inflatables, games, and rides. One of the biggest festivals is the Carolina Country Music Fest, where chart-topping country music singers take the stage to jam out for this four-day festival. If you're visiting, make sure to check out if there's a festival happening while you're in town.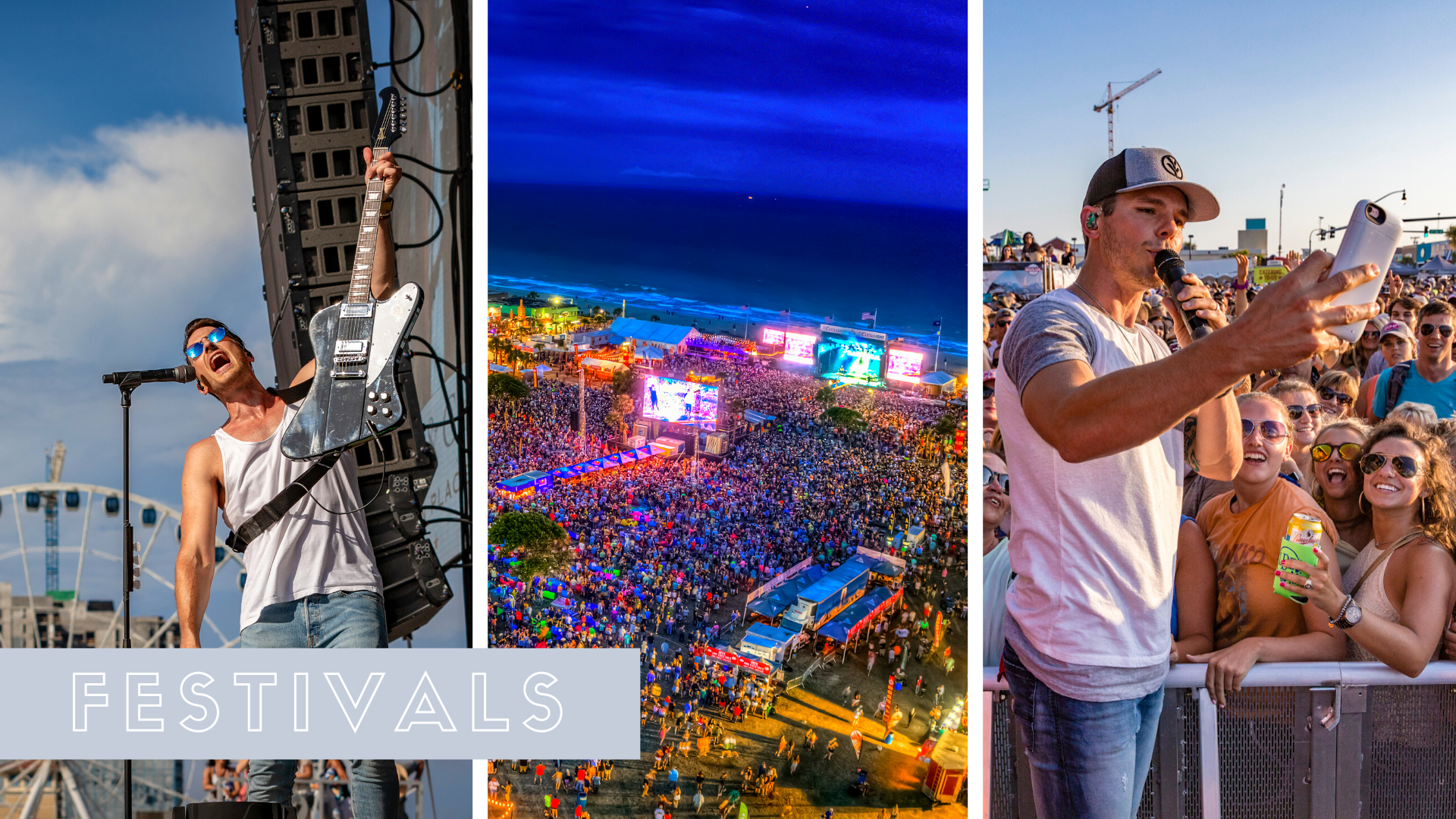 We hope a few of these reasons have intrigued you enough to choose Myrtle Beach as your next vacation destination. Brittain Resorts and Hotels is ready to accommodate you and your group at any of our oceanfront resorts. Check out our specials pages for current deals on your accommodations.